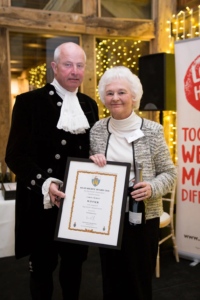 The 23rd Annual High Sheriff Awards evening was held at The Great Barn at Mickelfield Hall on Thursday the 8th March.
The focus of the evening's Awards was volunteering. This has been Will Hobhouse's theme during his year in office as The High Sheriff of Hertfordshire.
The beautiful barn was filled with inspiring people and organisations who give so much of their time working within a variety of wonderful causes. Those gathered were the ones short-listed from nearly 30 applications sent in for the awards.
Sarratt's own Carol Chorley was the winner of The High Sheriff's Personal Award
The High Sheriff introduced this award by saying, "One thing you discover as Sheriff is that there are simply amazing individuals in our communities who personally provide the glue that keeps communities together and tend to make the most of the efforts to help those in need.
Here in our community, Carol Chorley is very much an institution within Sarratt and the whole village knows, respects and appreciates the huge amount of work she puts in, to make it the wonderful place it is to live today.
Carol is Chairman of Sarratt Care, Secretary of the British Legion, organiser of the Poppy Appeal and works with many other village groups. She has given over 30 years continuous unpaid service to the community and senior citizens of Sarratt, and the village simply wouldn't be the same without her.
Congratulations Carol!"
Personal Awards also went to, Jenny Hewson the Community Support Manager for Emmaus in St Albans. Community Central St Albans. The team of volunteer gardeners at The Hospice of St Francis in Berkhamstead and the volunteers of The Redbourne Care Group.
The High Sherriff chose volunteering as his theme for the year. It is estimated that 14.2 million people volunteer across the UK including Herts. Without volunteers many charities and groups simply couldn't operate and of course the knock on effect would be huge. Awards given out on the evening were as follows:
THE PRINCE'S TRUST AWARD
The worthy winner was of this award was Levi Spriggs.
BUILDING EFFECTIVENESS AWARDS
Runner up : Watford Football Club's Community Sports and Education Trust.
Winner : Home-Start Watford and Three Rivers.
SOCIAL JUSTICE
Runner up: Herts Welcomes Syrian Families.
Winner:Herts Domestic Abuse Helpline.
VOLUNTEERING – COMMUNITY LED
Runner up: Colne Valley Special Sailors.
Winner:St Albans and District Foodbank.
VOLUNTEERING – ELDERLY
Runner up: Sarratt Care.
Winner: RVS Rickmansworth.
VOLUNTEERING – FAMILY
Runner up: Carers in Hertfordshire.
Winner: Cruse Bereavement Care Hertfordshire.
Cllr Richard Thake, Chairman HCC
" The County Council has always enjoyed a close relationship with the office of the High Sheriff and members were thrilled and delighted to see Will embrace the topic of volunteering throughout his incredible year in office. His wholeheated approach has added immeasurably to the ' Year of Volunteering' campaign run by the County Council throughout 2017.
We feel priviledged in Hertfordshire to have so many thousands of residents who do so much , for so many, in such a variety of ways."
" Thank you."