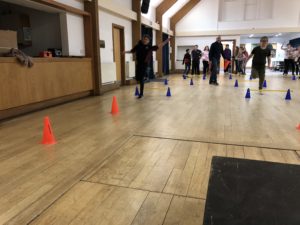 Sarratt Youth Group launched to great success
Sunday the 4th of March heralded the end to boring sundays and welcomed a new type of entertainment for 11-16 year olds in Sarratt – the Sarratt Youth Group.
Funded by the Sarratt Parish Council and run by Steering Group – Peter Thorp, Anthony Soothill, Sarah Dobson and Leone Ashby.  The group have been working since November 2017 to develop a successful format and are pleased to say it was an incredible success.
17 children from the Sarratt parish attended the group in Sarratt Village Hall, where they enjoyed badminton, table tennis, table football and some interesting air filled bean bag making.
They all had pizzas and soft drinks then finished the evening with a session on what they would like from their Youth Group.  Comments included a tuck shop, outtings, more badminton racquets and team building exercises.
The launch meeting was a great success with all the attendees saying they would be there next week.
If you or your children would like to be part of this new organisation or would like to volunteer to be part of this dynamic, young group please get in touch at – [email protected]
We look forward to seeing more children this Sunday from 6.30 – 8.30 in Sarratt Village Hall.