I should first explain that I am permanently disabled and use a mobility scooter to access the countryside; as a member of Disabled Ramblers ( a national organisation helping mobility impaired people to access the countryside) I have made several unsuccessful attempts to find walks in the Sarratt and Chess Valley area.
As I was browsing the internet ridiculously late one night looking for any mention of access in or near the Chess Valley I came upon a mention of new easy access gates on footpaths in Sarratt.
Having emailed the newsletter editor (Angela) I was very impressed by the speedy reply, the result as you see is that my husband and I, accompanied by Nick Mortimer, tested the route with my Tramper all terrain mobility scooter. I had been trying not to build my hopes up too much as I've often been disappointed, finding "the wrong kind of gate" to misquote Wallace and Gromit and Network Rail!
However we managed a two and a half mile round trip starting from The Cricketers, and had very fruitful discussions about how to overcome some of the obstacles we did encounter, as well as which other paths we could go on.
I am now busy thinking about how to extend any potential ramble a bit so that I could lead a group on this route sometime in the near future.
It's absolutely brilliant that Sarratt Parish Council has been forward thinking enough to install these gates to make "going for a walk" possible for many more people!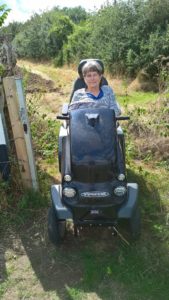 Lucy Savage