Mission Hall Meeting 1921
Our thanks to Veronica Martin for supplying these minutes – George and Martha Wilbee were her husband's Great Great Grandparents.
Report of Meeting
1. A meeting of the Friends and Helpers of the Mission Hall was held on Friday June 17th 1921.
2. Mr Doggett of Flaunden was elected Chairman.
3. Mr Doggett gave an interesting account of the starting of the mission work over 40 years ago. He also referred to the loss of Brother G Wilbee and the work Mr G Wilbee had done in the early days of the Upper Room.
4. After Singing of the Hymn ' I am Thine Oh Lord'
5. Mr Hedge Led in Prayer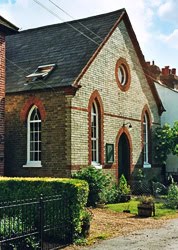 6. Mr Hedge then addressed the meeting, given the Friends details of the early work of the Mission and what it had done for Sarratt in those bygone days, how God had honoured their labours and of many that had been converted to God, through the labours of brother Wilbee. Brother Hedge being one that was caught in the gospel net in those early days.
7. Mr Doggett moved a resolution that as it was the wishes of Mrs Wilbee and the family that the Mission Hall still be carried on that the Brothers present, give a subscription of 5/- each towards the expenses of the Mission for this quarter.( seconded by Brother Price the resolution was ( carried )
8. Mrs G Wilbee moved that the friends from Chesham carry out the arrangements for the 40th anniversary on Sunday June 26th. Seconded by Mr Doggett ( resolution ( carried ))
9. The chairman then said the next business was to make a plan for Preachers for the next quarter. Preachers appointed were ;-
1st Sunday in month Mr Doggett or Mr Bachelor
2nd Sunday in month Mr Jones and MR Simmonds
3rd Sunday (Watford Sunday)
4th Sunday (Chesham Sunday )
5th Sunday = Mr Hawkes
10. Mr Jones moved that Mr Price be asked to arrange a plan of speakers for the next 3 months for the (Thursday meetings) any suitable speaker that was willing to come to be planned(seconded by Mr Bachelor carried )
11. Mr Doggett moved a vote of thanks be given to all the Preachers and Friends that had helped for coming along that evening. ( seconded by Mrs Wilbee carried )
12. Mr C Jones moved , the best thanks be given to Miss N Taverner for her services in connection with Hall and hoped she would be spared to play the organ for them for many years. (Mr Simmonds seconded carried )
13. After Singing the hymn ''Consecrate me to they Service'' a prayer was led by Mr Doggett and the meeting closed at 9.30
14. Names of those present
Mrs G Wilbee (Sarratt)
Mrs H Wilbee
Mrs P Taverner
Miss N Taverner
Mr Doggett (Flaunden)
Mr Hedge (Croxley)
Mr Simmons (Chipperfield)
Mr Hawks
Mr How (Chesham)
Mr Kiry
Mr Bachelor
Miss Hastie (Watford)
Mr Dansley
Mr Price
Mr Williams
Mr C Jones